By Courtney Potter
Disney+ Uncovers the Mystery to the Truth with The Mysterious Benedict Society
Hope everyone had a wonderful National Streaming Day yesterday! Our good pals over at Disney+ celebrated the big day with tons of news—including the debut of a new trailer for The Mysterious Benedict Society, a Disney+ original series premiering this summer…
Based on the best-selling book series by Trenton Lee Stewart, the eight-episode series follows four gifted orphans, who—after winning a scholarship competition—are recruited by the peculiar Mr. Benedict (Forky Asks a Question star and Emmy® winner Tony Hale) for a dangerous mission to save the world from a global crisis known as The Emergency. This quartet must infiltrate the mysterious L.I.V.E. Institute to discover the truth behind the crisis… but when their school's headmaster, the sophisticated Dr. Curtain, appears to be behind this worldwide panic, the kids of "The Mysterious Benedict Society" must devise a plan to defeat him.
The Mysterious Benedict Society stars Hale, Kristen Schaal, Ryan Hurst, MaameYaa Boafo, Gia Sandhu, Seth Carr, Emmy DeOliveira, Mystic Inscho, and Marta Kessler. Look for it streaming exclusively on Disney+ beginning Friday, June 25!
5 Fantastic Things to Watch This Weekend
Well, it's the weekend once again, which means there's a veritable cornucopia of amazing stuff available to watch from around the worlds of Disney. Cases in point: all 10 episodes of the Hulu Original Marvel's M.O.D.O.K. begin streaming today (Friday, May 21), and the sure-to-be-huge American Idol finale airs live on ABC this Sunday. Of course, there's so much more where that came from…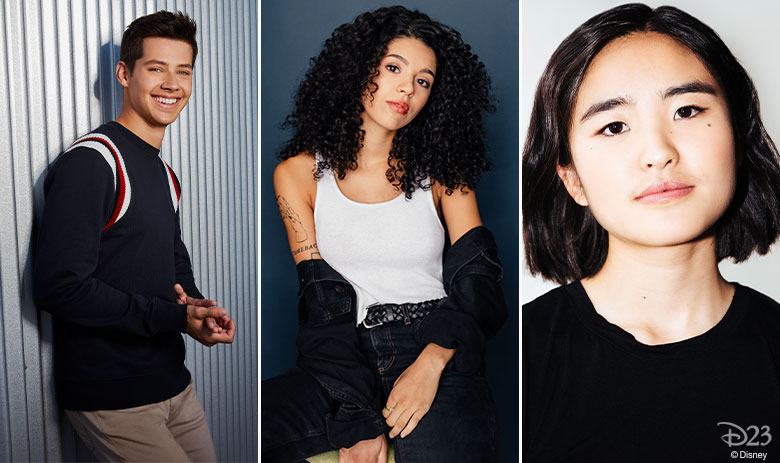 Disney Channel's ZOMBIES 3 Conjures Up Additional Cast
They're back—and they're bringing some new friends with 'em! Earlier this week, Disney Channel revealed that Matt Cornett (High School Musical: The Musical: The Series), Kyra Tantao (Law and Order: Special Victims Unit) and newcomer Terry Hu will join previously announced returning stars Milo Manheim and Meg Donnelly in ZOMBIES 3, the third installment of the highly successful Disney Channel Original Movie "ZOMBIES" franchise.
Cornett and Tantao will portray extraterrestrials A-Lan and A-Li, respectively; Hu, a nonbinary actor, will play the role of nonbinary alien A-Spen. The telepathically connected newcomers arrive in Seabrook as Zed (Manheim) and Addison (Donnelly) begin their final year at Seabrook High, in the town that's become a safe haven for monsters and humans alike. Zombies, werewolves, and humans are—as you might expect—equally shocked by the arrival of these mysterious extraterrestrial beings…
Also returning for the "trequel" are Chandler Kinney (Willa), Pearce Joza (Wyatt), and Ariel Martin (Wynter) as the werewolves; Trevor Tordjman as cheerleader Bucky; Carla Jeffery as cheerleader Bree; and Kylee Russell (Eliza), James Godfrey (Bonzo), and Kingston Foster (Zoey) as lovable zombies. Production on ZOMBIES 3 begins later this month!
Get Ready to Run Amok, Amok, Amok in Fall 2022…
Another fantastic National Streaming Day announcement really put a pep in our Hocus Pocus-obsessed step: The Sanderson Sisters are officially returning for more fun and frolic, courtesy Disney+! Yes, Winnie Sanderson herself—Disney Legend Bette Midler—took to Twitter to announce Hocus Pocus 2 will arrive on the streaming service in time for Halloween '22. Read all about it right here at D23.com.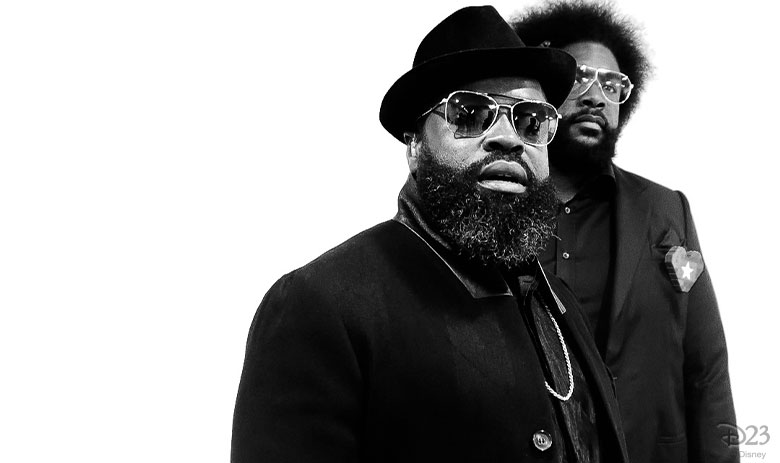 Rise Up, Sing Out: New Animated Short Series from Disney Junior
As kids and parents continue to navigate and understand the current issues happening in our country and around the world, the good folks at Disney Junior—home to the No. 1 preschool network—have announced a brand-new animated short series, Rise Up, Sing Out. Presenting important concepts around race, racism, and social justice for the youngest viewers amongst us, the series consists of music-based shorts designed to provide an inspiring and empowering message about noticing and celebrating differences—and providing an all-important framework for conversation.
The shorts will feature sure-to-be-amazing music by Ahmir "Questlove" Thompson and Tariq "Black Thought" Trotter of the Grammy®-winning musical group The Roots, who are executive producing through their Two One Five Entertainment production company alongside Latoya Raveneau (Disney+'s highly anticipated The Proud Family: Louder and Prouder), who also serves as executive producer. The Conscious Kid, an organization dedicated to equity and promoting healthy racial identity development in youth, is consulting on the series and will develop a viewing companion guide for parents. Rise Up, Sing Out is produced in collaboration with Academy Award®-winning animation studio Lion Forge Animation (Hair Love) for Disney Junior.
"It is an honor to work with the Disney Junior team to help create a series of shorts that will empower and uplift the future generations in the way we know best, through music," Thompson and Trotter recently said. "We hope these shorts will encourage the young audience to recognize and celebrate our differences as human beings while learning the tools to navigate real-world issues of racial injustice."
Rise Up, Sing Out will premiere across all Disney Junior platforms later this year.
Third Season of Disney Channel's The Owl House Announced
Here's some news to give a hoot about: Ahead of its season two premiere on Saturday, June 12 (at 10 a.m. EDT/PDT), The Owl House has been given the "greenlight" by Disney Channel for a third adventure-filled season!
For those who need a refresher hoot, The Owl House follows Luz (voice of Sarah-Nicole Robles), a self-assured teenage girl who stumbles upon a portal to a magical realm where she befriends a rebellious witch, Eda (voice of Wendie Malick), and a tiny warrior, King (voice of Alex Hirsch). Despite not having magical abilities, Luz pursues her dream of becoming a witch by serving as Eda's apprentice at the Owl House and ultimately finds a new family in an unlikely setting.
New episodes of the fantasy-comedy series will debut every Saturday from June 12 through August 14 on Disney Channel, and will also be available the same day on DisneyNOW. (Check out the new opening for season two, above!) Created and executive produced by Dana Terrace (Disney's DuckTales), this season picks up immediately following the confrontation with Emperor Belos (voice of Matthew Rhys) and finds our heroes working together to return Luz to the Human Realm; help Eda confront her inner demons; and search for the truth about King's past.
Season three will be comprised of three 44-minute specials; look for more info on when you can expect 'em to debut in the coming months.
Disenchanted Begins Production Ahead of Disney+ Debut in '22
Egads—a sequel to a beloved film, with the original cast returning and a slew of fabulous new additions? That's how you'll know… this news will make you giddy! Yes, just this week, Disney+ announced that production has begun in Ireland for Disenchanted, the sequel to the beloved 2007 film Enchanted.
The live-action musical comedy—directed by Adam Shankman and produced by Barry Josephson, Amy Adams, and Barry Sonnenfeld—will arrive exclusively on Disney+ in 2022. Adams (Giselle), Patrick Dempsey (Robert), James Marsden (Prince Edward), and Idina Menzel (Nancy) will all reprise their roles in the upcoming film, and they'll be joined by 19-year-old newcomer Gabriella Baldacchino as Robert's now-grown daughter Morgan.
As for the plot, here's what we know: Fifteen years after the events of the first film, Giselle moves with Robert and Morgan to the suburb of Monroeville, where she's faced with juggling the challenges that come with a new home and discovering what happily ever after truly means to her and her new family. Joining the fun this time 'round are Maya Rudolph as Giselle's new adversary, Malvina; Kolton Stewart as Malvina's son; Yvette Nicole Brown as Rosalyn; Jayma Mays as Ruby; and Oscar Nunez as Edgar.
And that's not all… Disenchanted will feature new songs from Disney Legend Alan Menken and Stephen Schwartz, whose work on Enchanted garnered three Oscar® nominations. Keep your eyes peeled for more Disenchanted scoop as it becomes available!
ICYMI: All the New Disney Shows We Can't Wait to Watch
Earlier this week, folks gathered (virtually) to hear all about the latest and greatest TV series and specials coming soon from ABC, Freeform, FX, Hulu, ESPN, and National Geographic. For a thorough look at what you can expect later this year—all the better to pre-populate those viewing calendars with!—check out this handy-dandy rundown right here at D23.