By Jocelyn Buhlman
Disney fans have prided themselves on rocking fashion as pixie-dusted as their favorite films and theme parks—from wearing a rainbow of Spirit Jerseys to Disney Bounding as favorite characters and more. If you count yourself among those Disney fashionistas, you need to check out Loungefly's newest (and first!) clothing collection: Stitch Shoppe. The brand—already a staple in any Disney fan's home thanks to their super-cute Disney backpacks—is launching this high-end clothing line on June 20, with the goal of creating collectible clothing pieces that look good on everyone. The Stitch Shoppe line offers a limited run of 600 pieces per style, serving as a once-in-a-lifetime opportunity for Disney fans to pounce on their favorite styles before they are sold out for good. Each item will also include a complimentary exclusive, collectible enamel pin on the hang tag that will only be available through a Stitch Shoppe purchase. Sounds like the work of a fairy godmother? Well—almost. We had the chance to talk with VP, Creative (and Disney superfan) Liz DeSilva on exactly how Loungefly waved their magic wands to bring this collection to life.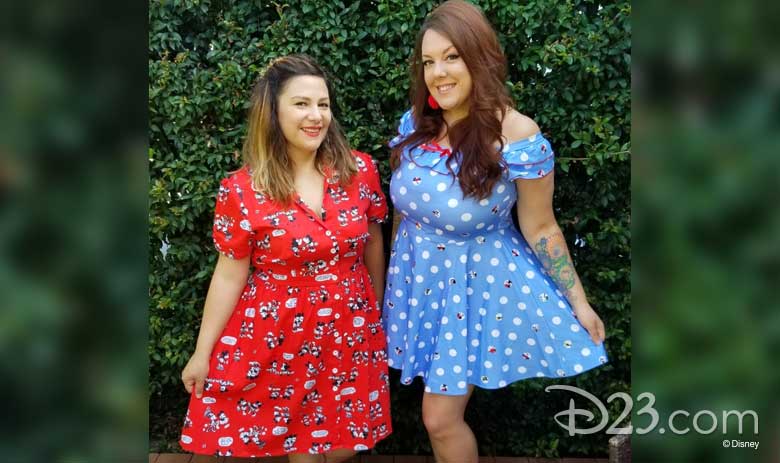 D23: The Official Disney Fan Club: Tell us a little about the new Stitch Shoppe line—and how it became Loungefly's first-ever clothing collection?
Liz DeSilva (LD): I did fast fashion t-shirts with Disney for a long time, and we always felt like there was open space in the market for a better quality, fashion-driven and fan-driven line that was geared towards a bit of a younger audience. Something a little more vintage-inspired, but with a contemporary twist on it.
There's a couple of things that make [the Stitch Shoppe line] very different. The first thing is because this is a partnership with Loungefly and Funko, everything about us is collectible, right? People collect the Funko Pop figurines; people collect our mini backpacks. They become very highly sought after.
We've worked in this world of almost "throwaway" fashion. You know, we used to design collections for all types of retailers, and fashion is fast. Fashion is very disposable right now, but we wanted to make apparel that was long-lasting and collectible. So, we found a way to do that. Every collection has its own unique enamel pins—so, it's a limited-edition enamel pin that you can only get on the hang tag of that apparel. So, on top of the quality of the garment, there's a little added bonus for collectors!
The second thing I would say is the quality. We worked for about seven or eight months on sourcing the best materials and working on fit with multiple sizes and body types. Everything is super comfortable. I kind of took into account everything when I would shop and try and buy dresses, what didn't work. For example—I would pay a lot for a dress and the zipper would jam. For the Stitch Shoppe Line, we have amazing quality zippers that you can pull up yourself and they don't snag. I know it's very dorky to care so much about a zipper, but the quality of our materials is amazing.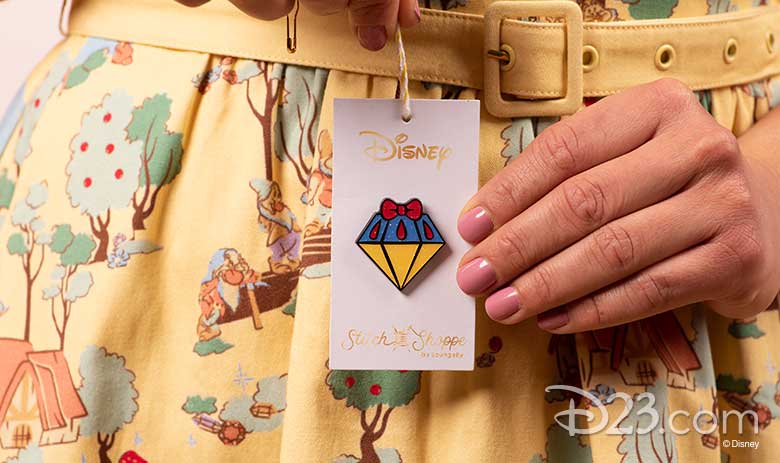 D23: Why did you pick the specific characters featured in this line?
LD: Thinking about this line from the beginning, it was never a question ever to not start with classic Minnie and Mickey. I mean, Minnie is my absolute favorite Disney character of all time. When you think about fashion, she embodies this iconic classic look. I always knew from the beginning that I wanted to do something with Minnie and Mickey and I wanted to really tie in her original blue skirt and red hat with the Daisy.
For the princesses—just to be totally honest—Snow White and Cinderella have been my favorites since I was a kid. The Cinderella dress we did is a blue dress as a nod to her ball gown, but the entire print is very much inspired by vintage Chanel and Versace's chain prints, but instead of chains, it's measuring tapes and ribbons and the mice working. From far away it almost looks like a vintage Versace-like print, and then you get up close and you're like, "Oh, those were Cinderella's mice!" That's where that came from. It was a way to interpret the princesses without just slapping their face on to the garment—to make it feel like Cinderella's story without it being just in your face.
D23: You're someone with a love of bright colors—can you talk about how you chose the color pallets for this collection?
LD: I definitely love color. I always say that my favorite color is rainbow, because I really can't pick one. I make tons of mood boards. I'm constantly pulling inspiration, whether it's from a scoop of ice cream or a vintage wallpaper. For our Minnie-inspired clothes, we always wanted it to be based off her original iconic outfit—her blue skirt, her shoes, and her red hat. Looking at the princess, the challenge we wanted to do one silhouette with the dresses, but we wanted to cover all the princesses, right? They all have such unique color palettes, and they don't necessarily go together. If you put Snow White with her primaries next to Ariel, with her mint and her purple in there, you start to clash. What we thought of was to take all the princesses and kind of mute them into a pastel palette that can kind of work across the board and give you really easy-to-wear prints. Our plan is to continue on into all the princesses eventually, but in a pallet that's very wearable and everybody can go to the park or to a party with their friends and everybody can wear a different princess. You can Disney Bound together and have a lot of fun.
For the Up palette, I think Up as a movie just had amazing colors. It just was beautiful. The color of the house and color of the balloons. I think it looks like a Sherbet sunrise. So, where princesses are more of a candy-coated paste, for Up, we definitely went with a more Sherbet palette and really pulled all those colors from the balloons and the house that are just already naturally gorgeous—and made a beautiful clothing line.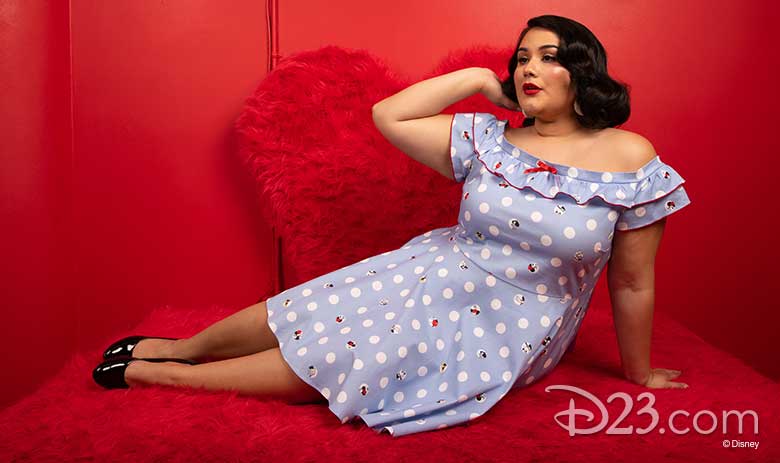 D23: Do you have a dream Disney character that you'd like to design clothing for?
My number one pick—and I'm holding out hope that one day in my career, this will happen—I would love to design an outfit for Minnie. I'm going to do it; I've got to keep trying until one day I get to design an outfit for her. She's amazing! She has an outfit for every parade. She has an outfit for every holiday. She always coordinates with Mickey. She's the perfect fashion icon and hands-down would be my number one pick to design for.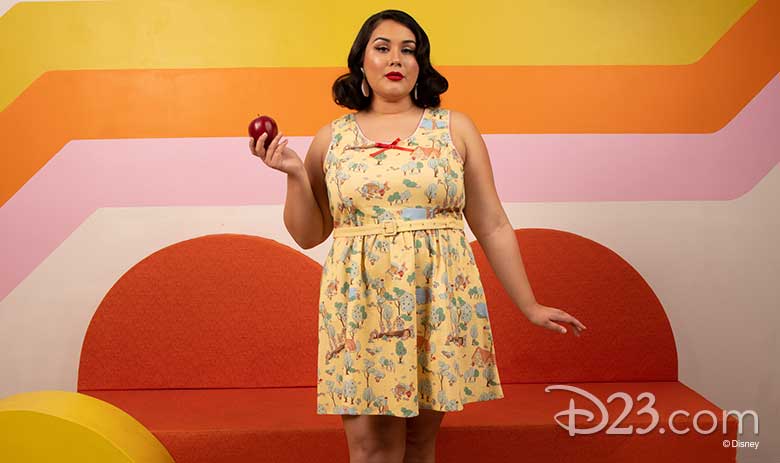 D23: This line is described as "universally flattering"—could you explain that more?
LD: This was the most important thing for me. I've been a medium in my life but I am currently an extra-large, and I've had my struggles at all different sizes of finding clothes that fit well. In designing the line, I made it really clear from the beginning that the most important thing was that this was flattering for everybody, that everybody felt good in it.
When we do our fits, we have everybody act like they're driving. We have people stretch. We have people sit because really, I don't know that people ever sit when they try clothes on, but it's a much different experience in your clothes. If you're standing and you're sitting, how does it feel when you're sitting? Is it still comfortable, is anything pulling? So, we did that in all sizes. We utilized our staff—my team is amazing and they love this project. We were able to try on all different body types and get opinions. Even now, sending the clothes out to the influencers and getting their feedback—we're taking everything into account. Every time we design a new collection, we find something we could do better. While I think this line is amazing, we're going to continue to try and make things more flattering, more comfortable and listen to our fans.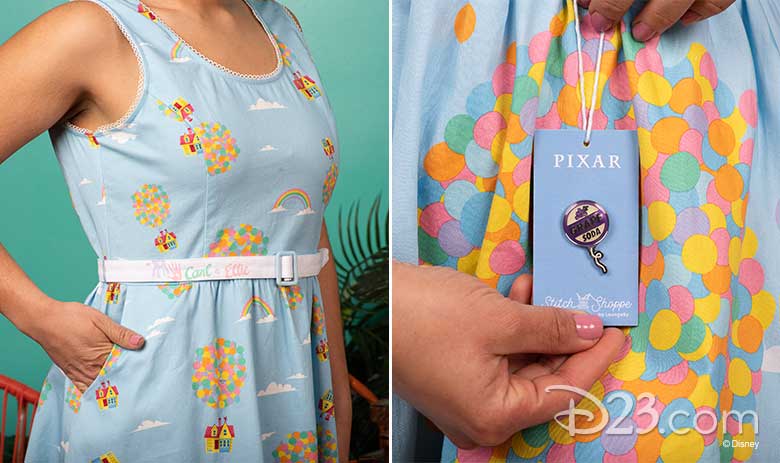 D23: Are there hidden details that people should look out for in the clothing line, besides what you've mentioned already?
LD: There's a bunch! On the mini skirt on the balloon, when the string of the balloon goes around the back of the skirt, it actually loops into a little heart on the back that you can't see from the front or any of the sketches.
The Cinderella dress comes with a blue belt—but if you reverse it, it's the measuring tape that the mice use to make the dress!
The Arial dress has a hidden message on the underside of the belt. It's embroidered and says, "I'm really a mermaid" when you flip it over.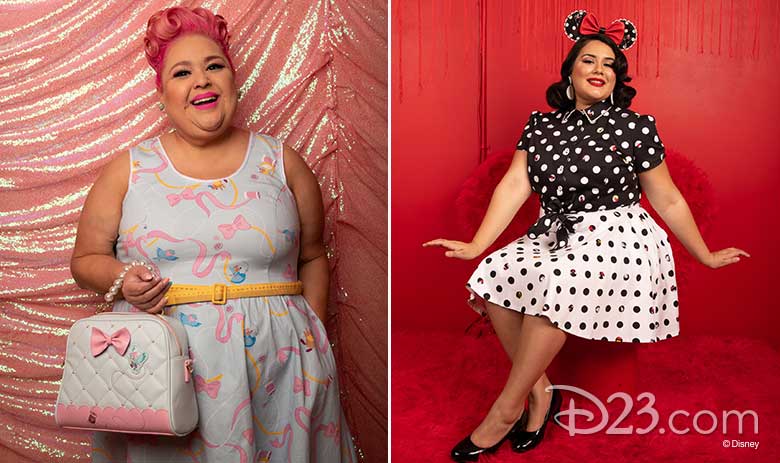 D23: Is there anything else you want fans to know about a stitch shop before we wrap up?
Just that it is really, really designed by fans for other fans, and that our goal is to provide a better-quality line that's really versatile and that you can dress up. You can wear it with heels, or you can put on Converse and a denim jacket and wear it to the park. The fabric is comfortable. Every piece is comfortable enough to wear all day to Disneyland and dressy enough to wear on a date night. We are really putting all of our energy into designing it for the true fans of Disney.
Check out the Stitch Shoppe by Loungefly line for yourself starting this Saturday, June 20. D23 Members can enjoy a 15% off discount on all Stitch Shoppe items using the code STITCHSHOPPE15.
*Offer valid once per customer and will only be applied towards Stitch Shoppe items.  This offer is subject to change cannot be combined with any other offers or discounts.  Offer expires 6/30/20.