By Courtney Potter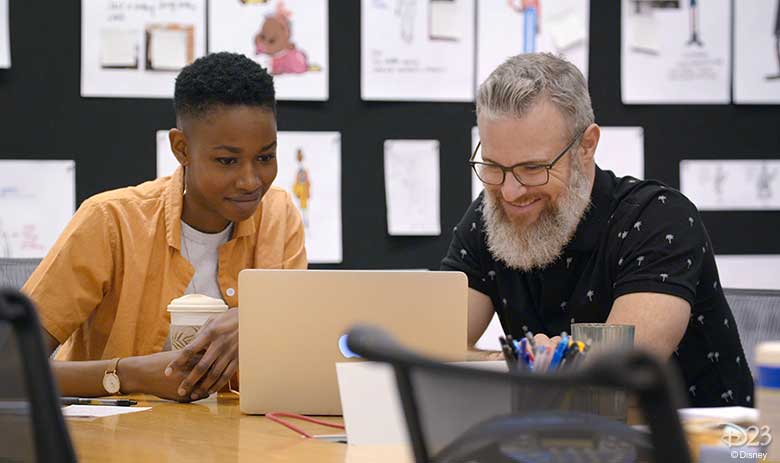 Disney+ Reveals Pixar Animation Studios' SparkShorts Lineup
The good folks over at Disney+ just revealed the fresh new lineup for their Pixar Animation Studios' SparkShorts program—which, if you haven't already given a looksee on the streaming service, you positively must. (Several have debuted since the program's start in 2019, and are available to stream right this very moment!)
Debuting on the platform in just a few months' time are two new shorts… Directed by Aphton Corbin and created using hand-drawn animation, Twenty Something details exactly how hard adulting can be. Some days you're nailing it, while other days, you're just a stack of kids hiding in a trench coat hoping no one notices—and Gia finds herself in this exact scenario the night of her 21st birthday. Look for this SparkShorts installment to premiere on September 10.
Meanwhile, in Nona—directed by Louis Gonzales—a grandmother plans to spend her day off by shutting out the world to watch her favorite TV show, E.W.W. Smashdown Wrestling. But when her 5-year-old granddaughter Renee is unexpectedly dropped off, Nona is caught between her two favorite things. Nona premieres on September 17.
But that's not all: Disney+ will also premiere a new feature-length documentary called A SparkStory—a co-production of Pixar and Supper Club—that takes an intimate look at Pixar's SparkShorts filmmaking process. Watch for it on the streaming service beginning September 24.
5 Fantastic Things to Watch This Weekend
Stay cool this weekend with a plethora of incredible content to watch from around the worlds of Disney—including a new episode of The Mysterious Benedict Society, and premiere of original documentaries Playing with Sharks and Stuntman (all on Disney+), as well as an all-new episode of The Owl House on Disney Channel. For a more complete rundown, do click here.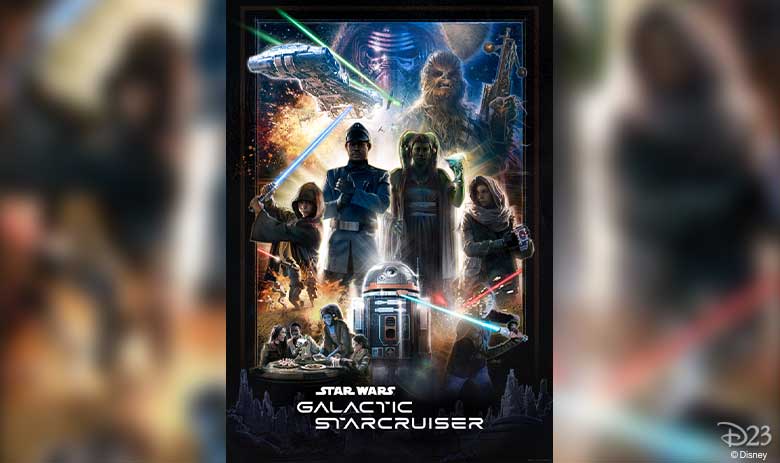 New Poster for Star Wars: Galactic Starcruiser at Walt Disney World
Hard to believe but, considering it's already July, we really are getting closer and closer to the ridiculously anticipated opening of Star Wars: Galactic Starcruiser—an immersive two-night journey that invites guests into a whole new kind of "storyliving" as they travel the galaxy in an amazingly appointed starship.
Earlier this week, our friends at the Disney Parks Blog revealed a brand-new Star Wars: Galactic Starcruiser poster—which reveals a few more details than we've been previously privy to. Cases in point: The sleek Halcyon starcruiser, in the upper-left corner, is your home for this two-night adventure—and it's known for its impeccable service, fabulous entertainment, and exquisite dining. Meanwhile, the four people at the center of the poster—a youngling wearing Jedi robes and wielding a lightsaber; an adult dressed in the uniform of a First Order officer; a Twi'lek adult; and another youngling holding an interesting piece of technology—are meant to represent the Halcyon's travelers. In front of them is an R-series astromech droid, but one that appears to have a few extra bells and whistles. Around the rest of the poster are depictions of the amazing culinary adventures travelers can expect, a peek at lightsaber training, the looming visage of Kylo Ren, and even—for those that have already visited a certain far-flung planet—some very familiar spires…
For more info, and to sign up to receive updates, lightspeed over to StarWarsGalacticStarcruiser.com.
Go Behind the Scenes with Marvel Studios' Assembled: The Making of Loki
Wanna know what it took to bring the Time Variance Authority (TVA) to life? So do we—and thankfully, Disney+ can help!
Marvel Studios' Assembled: The Making of Loki is a brand-new, exclusive special now streaming that takes viewers behind the scenes of the six-episode Disney+ original series, from Loki's first moments inside the TVA to facing the man behind it all, He Who Remains (Jonathan Majors)—and everything in between! Viewers will hear from stars Tom Hiddleston, Owen Wilson, Sophia Di Martino, and more, along with the talented creative team behind Loki's shenanigans, including director Kate Herron and head writer Michael Waldron.
The special delves into new corners of the Void, the end of time and, of course, the TVA. Plus, keep your eyes peeled for a certain fan-fave character: the Alligator Loki all-blue stand-in stuffed animal.
Marvel Studios' Loki is now streaming, only on Disney+. Binge all six episodes today!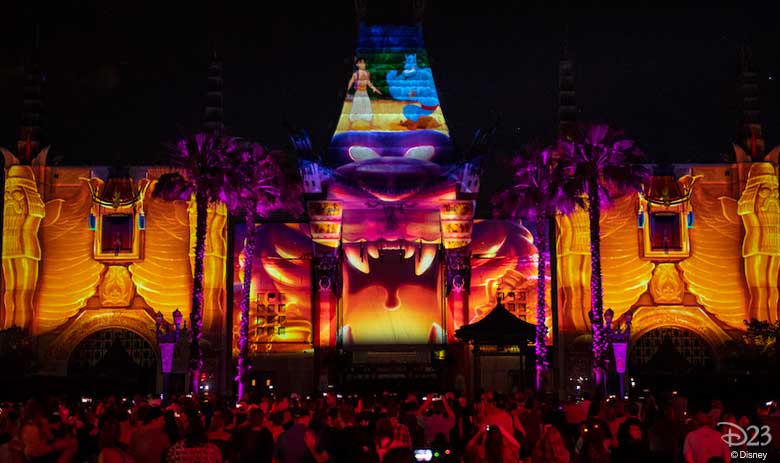 More Entertainment Returns to Walt Disney World Resort
As our pals at Walt Disney World Resort continue to work on bringing even more entertainment experiences back, the Disney Parks Blog recently shared news of four more favorites returning in short order.
Starting on August 1, Disney's Hollywood Studios will light up the night with the return of Wonderful World of Animation; this cinematic nighttime experience uses super-cool projection mapping technology to transform the park's iconic Chinese Theater on a magical journey through more than 90 years of Disney animation. Meanwhile, on August 15, a tale as old as time will return to Theater of the Stars on Sunset Boulevard with Beauty and the Beast – Live on Stage—the heartwarming tale of Belle and Beast that swirls to life in a tuneful stage production.
Wait, there's more: Over at Magic Kingdom Park, Mike Wazowski will begin welcoming humans to the Monsters, Inc. Laugh Floor on August 8, and Crush will once again answer everyone's most pressing (and usually hilarious) questions at Turtle Talk with Crush within The Seas with Nemo & Friends at EPCOT beginning August 21.
Stay tuned for more further live-entertainment developments—including news about all-new nighttime spectaculars helping to kick off The World's Most Magical Celebration, in honor of Walt Disney World's 50th anniversary—in the coming months…
Nutty New Trailer for Disney+'s Chip 'n' Dale: Park Life
Earlier this week, Disney+ debuted the official trailer for Chip 'n' Dale: Park Life, their all-new animated series premiering Wednesday, July 28. Get a sneak at the chipmunk duo's hilarious hijinks, above.
Comprised of three seven-minute stories, each episode of Chip 'n' Dale: Park Life follows two tiny troublemakers, Chip and Dale, trying to live the good life in a big city park while having giant-sized, sky-high adventures. Nervous worrier Chip and laid-back dreamer Dale make the perfect odd couple: they're best buddies and they drive each other nuts. In their perpetual pursuit of acorns, these ultimate underdogs are joined by Pluto, Butch, and several other iconic Disney characters as they face down bullies great and small.
Filled with laugh-out-loud cartoon comedy, wacky adventures, and even a few tugs at the ol' heartstrings, the 12-episode series will debut new episodes weekly on Disney+. Don't miss out!
ICYMI: Having a Doggone Good Time at the Turner & Hooch Premiere…
D23 was lucky enough to attend last week's red carpet (or should we say, green carpet) premiere of the new Disney+ series Turner & Hooch—and we got to talk to just about everyone involved! Find out more about what you can expect from the new comedy series, inspired by the 1989 film starring Tom Hanks, right here.