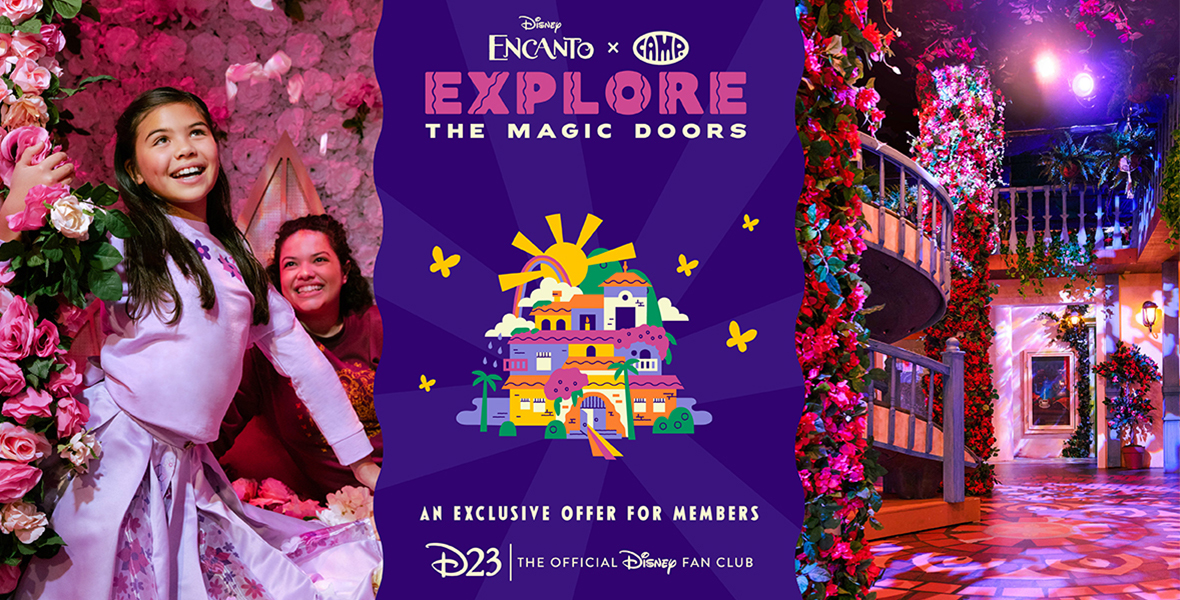 CAMP invites D23 Members to explore the world's first immersive Disney Encanto experience in New York City: a real-life Casita, complete with secret passages, interactive magic, live music, and surprises behind every magic door.
From Antonio's rainforest to Isabela's floral wonderland and Luisa's happy place, CAMP's Disney Encanto experience is bursting with magical fun. Oh, and we don't talk about this, but you might see Bruno's room, too! On top of all that, CAMP brought the fun of the Disney Encanto town square to the experience. All kinds of merchants have cooked up custom-made, exclusive goods inspired by the world of Encanto, from chain-stitched apparel to handmade flower crowns that you'll only find at CAMP.
Exclusive to D23 Members! Simply show your D23 membership card (digital or physical) and Encanto tickets at check-in at our 5th Avenue Store and receive a free Disney Encanto x CAMP 500-piece puzzle.*
Purchase tickets here. Disney Encanto x CAMP is located at 110 5th Ave., New York, NY 10011.
"This first of its kind show transports families into the beautiful world of Encanto, bringing to life the magic shared between CAMP and Disney," said Ben Kaufman CAMP's Co-Founder and CEO. "In 2018, we opened our first store right here at 110 5th Avenue and have since built an incredible community across the country. It is a privilege to have created a show with such a strong sense of family and identity, behind our very own Magic Door. NYC Families will feel a part of the rich community so integral to the film right here at CAMP!"
"Bringing together Disney's extraordinary storytelling and immersive retail experiences allows us to dream bigger and create special offerings for families," said Hubert Liu, SVP Business Planning and Franchise Development, Disney Consumer Products, Games and Publishing. "Our continued collaboration with CAMP is an exciting example of our commitment to engaging with our fans in new ways. We're thrilled to deliver this beautifully immersive experience that celebrates the award-winning magic of Disney's Encanto."
Disney Encanto x CAMP will be in New York for a limited time before moving to another CAMP location near you. CAMP was a participant in the 2021 Disney Accelerator, a business development program designed to accelerate the growth of innovative companies from around the world. For more information, visit camp.com and follow @campstores and hashtags: #DisneyEncantoxCAMP.
NOTE
Limit one per household; limited quantities available; available for tickets purchased from 1/12/23 - 3/15/23.