By Courtney Potter
Turner & Hooch to Bark Its Way Onto Disney+ Later This Summer
As unabashed fans of the source material, we're wagging our proverbial tails over this update from our Disney+ pals—a brand-new trailer for their upcoming original series Turner & Hooch…
When ambitious, buttoned-up U.S. Marshal Scott Turner (Josh Peck) inherits a massive, unruly French Mastiff named Hooch, he soon realizes the pet he didn't want may be the partner he needs. Peck's character is the son of Detective Scott Turner, portrayed by Tom Hanks in the fan-favorite 1989 comedy film of the same name.
The 12-episode series also stars as Carra Patterson as Jessica Baxter, Scott's brave, street-smart partner; Brandon Jay McLaren as Xavier Wilson, a cool, enigmatic marine-turned-U.S. Marshal; Anthony Ruivivar as Chief James Mendez, Scott's boss with a secret soft spot for Scott's new dog; Lyndsy Fonseca as Laura Turner, Scott's sweet, animal-obsessed sister; Jeremy Maguire as Matthew Garland, Laura's dog-loving son; and Vanessa Lengies as Erica Mouniere, the quirky head of the U.S. Marshals dog training program. Becca Tobin recurs as Brooke, Scott's former flame; and Reginald VelJohnson reprises his role as Mayor David Sutton. Five French Mastiffs star as Hooch, Scott's slobbery yet loveable canine companion.
Look for Turner & Hooch on Disney+ beginning Wednesday, July 21!
5 Fantastic Things to Watch This Weekend
It's our pleasure and privilege to clue y'all in, every week and weekend, to some of the coolest stuff airing on TV (or your favorite streaming device) from around the worlds of Disney. And this final weekend of June—honestly, where did the time go?!—is no exception: Look for the premiere of the Disney+ documentary Wolfgang; the sure-to-be-fabulous This is Me: Pride Celebration Spectacular live-stream event on Disney+'s Facebook and YouTube; and heaps more!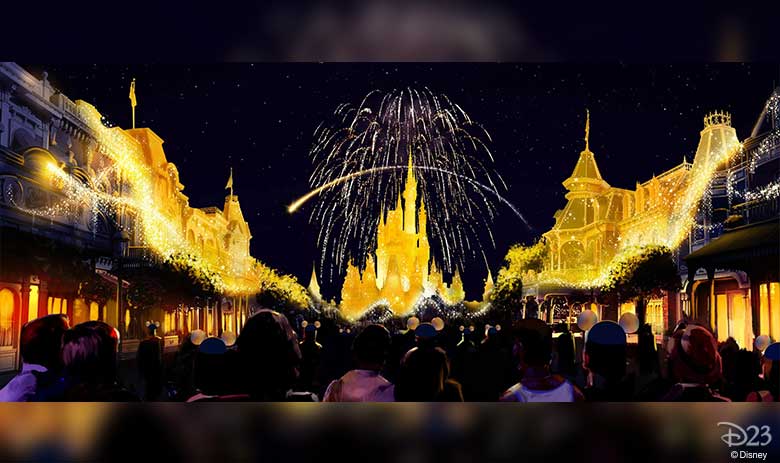 Walt Disney World Resort: 50th Anniversary Celebration Updates
As y'all know, we're fast approaching the 50th anniversary of Walt Disney World Resort—and as such, we're hearing more and more updates on what kind of once-in-a-lifetime celebrations to expect. The latest from the good folks over at the Disney Parks Blog is a sneak peek into the two brand-new nighttime spectaculars that will help kick off the party…
Disney Enchantment will launch the anniversary festivities when it debuts October 1 at Magic Kingdom park. Created to coincide with the start of "The World's Most Magical Celebration," this evening extravaganza will take guests on a journey filled with adventure, wonder, and empowerment. Inspiring everyone to believe in magic, Disney Enchantment will feature music, enhanced lighting, stunning fireworks, and—for the first time—immersive projection effects that extend from Cinderella Castle down Main Street, U.S.A. (artist rendering seen above).
Joining Disney Enchantment on October 1 will be Harmonious at EPCOT—one of the largest nighttime spectaculars ever created for a Disney park! This new show will bring the globe together at World Showcase Lagoon in a celebration of Disney music that inspires people worldwide. It's a grand, powerful tribute to the unifying power of story and song, embracing new technical magic that incorporates pyrotechnics, fountains, lighting, and media in fresh new ways. Plus, Harmonious will feature new interpretations of classic Disney songs, reimagined in more than a dozen languages by a diverse group of 240 artists from around the world.
But wait, there's more: The all-new "Disney KiteTails" will come alive several times daily beginning October 1 inside the Discovery River Amphitheater at Disney's Animal Kingdom park. Performers will fly windcatchers and kites of all shapes and sizes, while out on the water, elaborate three-dimensional kites—some stretching to 30 feet long—will depict Disney animal friends, including Simba, Zazu, Baloo, and King Louie. And "The World's Most Magical Celebration" will also see the grand opening of Remy's Ratatouille Adventure at EPCOT on October 1; icons at all four parks transforming into "Beacons of Magic" at night; EARidescent décor across the entire resort; and so much more.
Keep your eyes peeled for more info on Walt Disney World's 50th in the coming months!
The Search is On for Disney Magic Makers
Here's a way you can nominate someone special in your life for an equally special prize, in concert with Walt Disney World Resort's upcoming anniversary:
Do you know someone who brings comfort, joy, and support to their community? Now is the time to recognize all that that person does through the new Disney Magic Makers contest. From now through October 1, any U.S. resident over the age of 18 can nominate a person who inspires them for the Disney Magic Makers contest by visiting DisneyMagicMakers.com and sharing the positive impact they've made. Fifty nominees whose inspirational acts of kindness, compassion, and creativity best exemplify the values of a #DisneyMagicMaker will win a trip to Walt Disney World Resort to join "The World's Most Magical Celebration" for the 50th anniversary and a one-year subscription to Disney+, if eligible. People can further celebrate their hometown heroes with a public post using #DisneyMagicMakers on Facebook, Instagram, Twitter, or TikTok.
"All of us at Disney have been inspired by the countless acts of goodwill by people across the country throughout the pandemic," explains Josh D'Amaro, Chairman, Disney Parks Experiences and Products. "These magic makers and their stories have changed us in ways we never imagined. That's why we're so proud to celebrate those who continue to make everyday magic a reality."
To keep the magic in motion, Disney will donate a total of $400,000 among four non-profits that demonstrated resilience during the COVID-19 pandemic: Make-A-Wish®, Starlight Children's Foundation, Boys & Girls Clubs of America, and The Nature Conservancy. These organizations each found unique and innovative ways to continue serving their communities when they needed magic most.
Visit DisneyMagicMakers.com for all the official rules—and for full details on how to enter, eligibility requirements, contest entry periods, prize description, and limitations.
Sea Thieves: A Pirate's Life Brings Captain Jack's Adventures Home
Ready for a swashbuckling good time? There's a new Sea of Thieves expansion pack inspired by Disney's Pirates of the Caribbean…
Disney recently collaborated with Rare and Xbox on Sea of Thieves: A Pirate's Life, a thrilling and original story for the action-adventure video game. In Sea of Thieves' Season Three update, available now, Captain Jack Sparrow and his infamous crew have sailed in from beyond the horizon, setting in motion an awe-inspiring chain of events. Join forces with Jack and venture across, below, and beyond the waves as you battle to save the Sea of Thieves. The story unfolds across five new cinematic Tall Tales—Sea of Thieves' carefully crafted narrative-driven adventures. Whether solo or alongside crewmates, players are sure to treasure every moment of the adventures that await.
Some destinations in Sea of Thieves: A Pirate's Life will be instantly recognizable to fans of Jack's past adventures, giving them a chance to explore iconic locations including several from the original 1967 Pirates of the Caribbean attraction in Disneyland park—such the Treasure Room, the Ship Battle, and the Jail Scene. Plus, players will interact with familiar characters from Pirates of the Caribbean, making their long-awaited debuts in the Sea of Thieves world.
Sea of Thieves: A Pirate's Life launched as part of the Season Three update, available for free to all Sea of Thieves players who have purchased the game on Xbox Series X|S, Xbox One, Windows 10 PC, or via Steam, or players with access to it via Xbox Game Pass. Visit SeaOfThieves.com for more!
ICYMI: Turning the Tables with Robin Roberts Coming to Disney+
Disney Legend Robin Roberts is bringing a unique new show to Disney+ later this summer; in each episode, Roberts sits down with three famous women who share personal—and often moving—experiences that are both personal and moving. Participants include Jamie Lee Curtis, Melissa Etheridge, Tig Notaro, and more. To learn more about the show, and to see its latest trailer, click here.