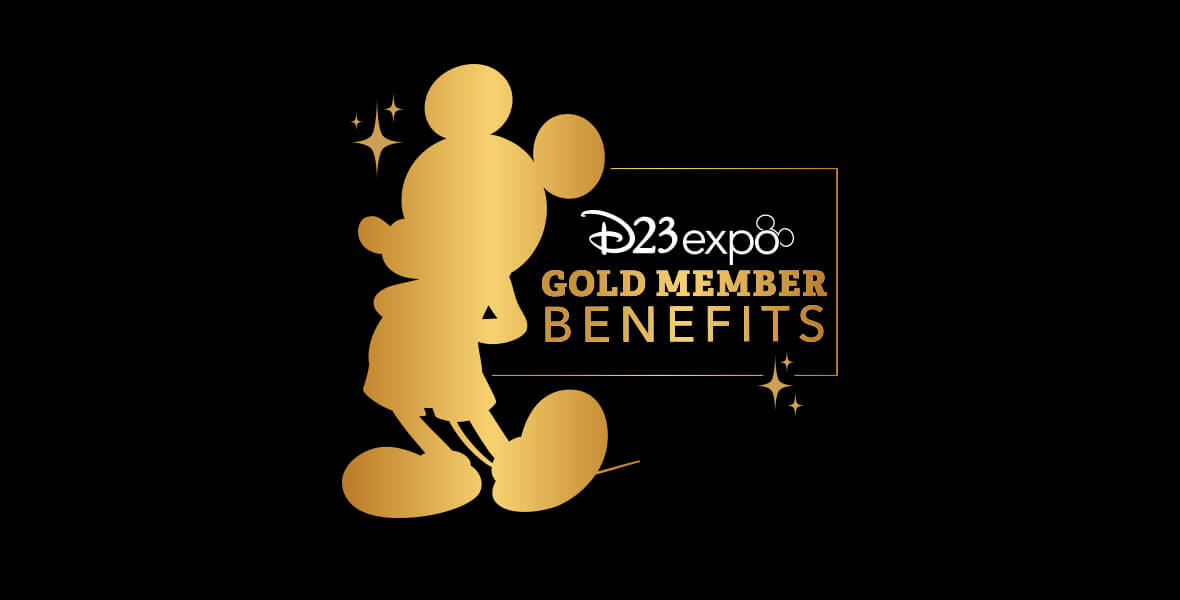 At D23 Expo 2019, D23 Gold Members can enjoy exclusive perks, from discounts to the D23 Gold Member Fan Lounge and more. Keep scrolling for a look at absolutely everything that will add an extra sprinkling of pixie dust to an already magical weekend.
Not a Gold Member yet? There's still time to join! Click here to sign up and level up your D23 Expo experience.
D23 Gold Member Fan Lounge
On the Expo show floor, we've created an exclusive lounge area, just for D23 Gold Members. It's a place to rest your feet, replenish your batteries at the charging stations, and have some fun while you're at it. In the D23 Gold Member Fan Lounge, you'll be able to get a special keepsake using the Penny Press, play fun games (and yes, win some prizes), and enjoy refreshments. 
And be sure to bring your D23 Gold Member card to get access!
Collectible Print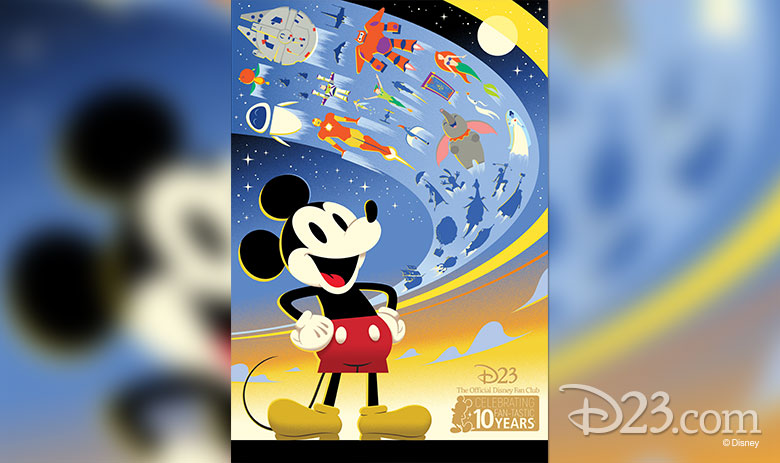 All D23 Gold Members at Expo will receive an exclusive collectible print, created by Disney artist Eric Tan. It's the perfect Expo keepsake made just for you! All you have to do is go to the D23 Gold Member Gift Pick-Up in North Hall, and show your Gold Member card.
D23 Gold Member Priority Queuing
D23 Gold Members will be able to enjoy priority queuing for select sessions at D23 Expo. D23 Gold Member Priority Queuing allows first access to limited general admission seating at Hall D23 and the D23 Expo Arena. D23 Gold Members may bring one (1) Expo Guest, and D23 Gold Family Members may bring up to three Expo Guests. Present your valid Gold Member Card at queue entry. All members of your party must be present at time of entry to the queue (no saving places in line). Priority queue capacity is limited. The priority queue will be closed one (1) hour prior to the scheduled session start time at Hall D23, 30 minutes prior to the scheduled session start time at the D23 Expo Arena, or once capacity is reached, whichever is first. Should the priority queue reach capacity, D23 Gold Members will be directed to standby queues, if available.

Charter Member Benefits
D23 Charter Members will have exclusive access to the D23 Charter Member Lounge, where complimentary refreshments will be served throughout the day. Stop by to snap a picture at the unique photo op and pick up a special gift while you're at it.
Just make sure you don't forget your Gold Member card!
Special Offers and Discounts
We love a good discount. Luckily, D23 Gold Members have tons of exclusive discounts all around the show floor at D23 Expo! Just look for the "Gold Member Offer Spot" sign as you explore the convention, and check out all the offers below.*
 *All discounts and gifts with purchases are only valid in-person at each of the booths listed below.
American Tourister
15% off your purchase.
H20+
30% off H2O+ items (excluding the new 3-step Hydration Collection products).

Raw Threads
15% off your purchase.
Otter Box
23% off all booth products.
FiGPin
Receive a gift with purchase while supplies last.
Folkmanis® Puppets
5% discount.
Select Brands, Inc.
10% discount.
Sunstaches
Get 5 for $32.
What's Your Passion Jewelry
Spend $500 or more, and receive your choice of Infinity Bead.
Spend $700 or more, and receive your choice of any item up to a $90 value with your purchase.
You'll also have the opportunity to get 2 free Infinity Beads when you buy 9. And, last, but certainly not least, you can get the exclusive Mjolnir + Stormbreaker bundle for $400!
Iron Studios
Receive an exclusive A3 Polystone poster of Captain America, the First Avenger. Plus, you will be able to purchase the exclusive Captain America, the First Avenger 1/10 collectible.
Disney X RockLove Popup Boutique
20% off of your entire order when you purchase two or more items at the Disney X RockLove D23 Expo Pop-up Boutique.*
*Limit 2 per person of the D23 Expo Exclusive.
A.T. Cross
Exclusive access to purchase the brand-new limited edition Darth Vader Pen. Only 1,977 Rollerball and Fountain pens were created, each marked with a number in this limited collection. There are 150 Rollerball pens available for $350 each, and 50 Fountain pens for $550 each.
Plus, receive a 10% discount on these pens, which are only available at D23 Expo.
Dark Horse Comics
23% off of your entire purchase, including exclusives.
Steiff
10% off on all Steiff products.
Receive an additional 5% off any D23 exclusive item. Select from Baloo Exclusive, Mickey Mouse and Minnie Mouse 90th anniversary Set, and Winnie the Pooh Exclusive.*
Plus, pick up a D23 exclusive pin!*
*While supplies last.
Happy Feet Slippers
20% off our figural slippers.
Plus, receive a 20% coupon for Zipperz, redeemable online at buyhappyfeet.com.
Monogram International, Inc.
5% off your purchase of $50 or more.
Thomas Kinkade Studios and Dowdle Folk Art
Receive a 10% discount on your entire purchase.
Plus, on purchases of more than $150, you'll receive one free Thomas Kinkade Studios Fine Art Print Folio, which includes a set of 7 Fine Art Prints:
90 Years of Mickey
Mickey and Minnie Sweetheart Campfire
Mickey and Minnie Sweetheart Bridge
Mickey and Minnie Sweetheart Cove
Mickey and Minnie Sweetheart Café
Mickey and Minnie Sweetheart Holiday
Mickey and Minnie Sweetheart Central Park
Disney Fine Art and Cyclops Print Works
Purchase 2 or more Cyclops Print Works prints*, and receive one FREE exclusive set of uncut, highly collectible screen-printed handbills. And, with the purchase of $100 or more, you'll also receive a FREE Cyclops Print Works T-Shirt.
Plus, you can take 10% off of their entire order!
At Disney Fine Art you can purchase exclusive Mickey Mouse artwork created by the official voice of Mickey Mouse, Bret Iwan!
There will also be Gold Member exclusive artwork by Tim Rogerson, Bret Iwan, and ARCY.
*Offer excludes original art. Cannot be combined with any other offers or discounts.
TASCHEN
You have exclusive access to purchase the highly coveted 1–100 edition numbers of TASCHEN's limited edition book The Walt Disney Film Archives. The Animated Movies 1921 - 1968.
This definitive Art Edition, limited to 2,500 copies, comes with its own facsimile of a 64-page color storyboard designed for Micky Mouse's legendary appearance in "The Sorcerer's Apprentice" sequence in Fantasiaand stunning facsimile portfolio of five masterful cel setups from the Silly Symphonies.
Bésame Cosmetics, Inc.
Receive a free Snow White clutch.
Plus, if you're one of the first 100 D23 Gold Members to stop by and make a purchase from our new collection, you'll receive a free, full-size Mermaids of Peter Pan fragrance.
After that, each D23 Gold Member will receive a Mermaid Kiss lipstick from the Mermaids of Peter Pan collection with your purchase.
The Walt Disney Family Museum in San Francisco
Get an exclusive gift with purchase.
Life Is Tech
Get 10% off and limited giveaways at booth.
Walt Disney Television Store
10% off select merchandise (excluding exclusive items).
Hero Within
The first 25 D23 Gold Members receive an exclusive Hero Within Enamel Pin with any purchase.
Disney Enchanted Fine Jewelry:
Enchanted Disney Fine Jewelry by Jewelmark will be offering additional discounts to D23 Gold Members all weekend long! Check with us for details.
Good Smile
Get 10% off merchandise in our booth.
For a quick look at all of your benefits, check out our "Know Before You Expo" video all about D23 Gold Member Benefits!