Disney's Home on Hollywood Boulevard, the El Capitan Theatre will be hosting an EXCLUSIVE theatrical engagement to see Disney and Pixar's Luca from June 18 through 24, and we have a special offer D23 Gold Members are going to be sure not to miss!
D23 Gold Members can receive (1) complimentary 1.25 oz. popcorn, (1) complimentary 20 oz. drink, and (1) special print. Simply show your valid D23 Gold Member card at the concession stand!*
Get tickets to see the film at the El Capitan Theatre June 18 – 24 now.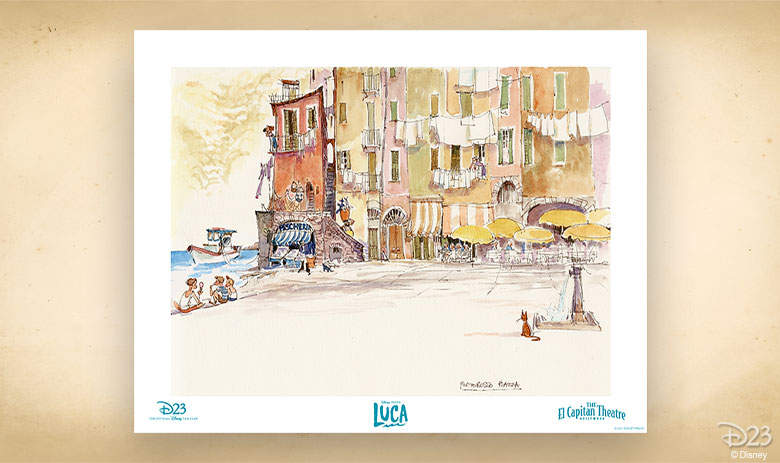 MORE MOVIE INFO
All seats for this engagement are reserved: Mon. – Thurs.: $17 Adult, $12 Child (3-11)/Senior (60+), and Fri. – Sun.: $20 Adult, $15 Child (3-11)/Senior(60+)
Daily Showtimes for Disney and Pixar's Luca starting Friday, June 18 are 10 A.M., 1 P.M., 4 P.M., 7 P.M. Showtimes and dates are subject to change.​
Disney and Pixar's original feature film Luca is a coming-of-age story about one young boy experiencing an unforgettable summer filled with gelato, pasta, and endless scooter rides. Luca shares these adventures with his newfound best friend, but all the fun is threatened by a deeply held secret: they are sea monsters from another world just below the water's surface. The voice cast features Jacob Tremblay as Luca Paguro; Jack Dylan Grazer as Alberto Scorfano; Emma Berman as Giulia Marcovaldo; Saverio Raimondo as town bully Ercole Visconti; Maya Rudolph as Luca's mom, Daniela; Marco Barricelli as Giulia's dad, Massimo; Jim Gaffigan as Luca's dad, Lorenzo; Sandy Martin as Luca's grandma; and Giacomo Gianniotti as a local fisherman. Pixar Animation Studios' 24th feature film is directed by Academy Award® nominee Enrico Casarosa (La Luna) and produced by Andrea Warren (Lava, Cars 3). Award-winning composer Dan Romer (Beasts of the Southern Wild, Maniac) created the score. Rated PG for rude humor, language, some thematic elements, and brief violence.
*Limit one popcorn, drink, and print per member card.