Welcome to D23 Expo 2022! We can't wait for you to join us in Anaheim September 9th through 11th, for the ultimate Disney fan event! You must be a D23 Member to purchase tickets. Join as a complimentary General Member or upgrade to Gold Membership for additional benefits, including an exclusive discount on D23 Expo tickets.
Not a D23 Gold Member? Go to D23.com/join to learn more.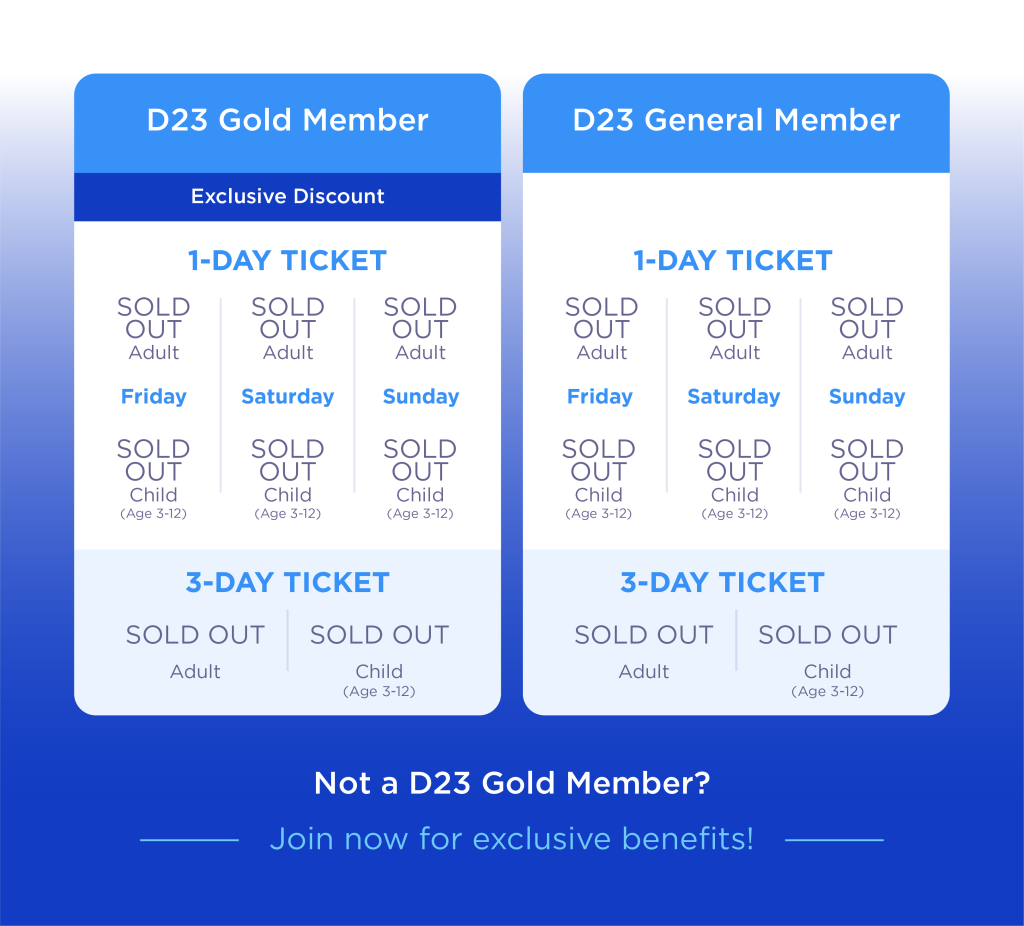 Child Tickets
There are specially priced Child Tickets available for those ages 3–12. Children under three (3) years of age receive complimentary admission to D23 Expo.
D23 Expo Ticket Discounts
Discounted single-day and multi-day tickets for D23 Expo 2022 are available exclusively to D23 Gold Members. D23 Gold Members can purchase up to two (2) discounted tickets each. With a D23 Gold Membership Duo Plan, both D23 Gold Members (primary and affiliate) on the plan can each purchase two discounted tickets (for a combined savings of up to $200 on four 3-Day Adult Tickets). This offer may not be used in conjunction with any other promotional codes or offers; available while supplies last. Join D23: The Official Disney Fan Club today!
NOTES
D23 Members must log in by using their D23.com Member account information when purchasing tickets.
D23 Gold and General Members may purchase up to twelve (12) D23 Expo 2022 tickets, including any discounted tickets.
Ticketed Members and guests who do not attend D23 Expo 2022 forfeit their place as well as all experiences, benefits, and gifts associated with the event.
D23 Expo 2022 tickets are subject to availability.
All D23 Events are subject to change without notice. There are strictly no cancellations or refunds.
D23 Expo badges will begin shipping in Summer 2022. Once you receive your badge, it will be important to activate it online prior to arriving at D23 Expo. Badge activation will require a D23 Gold or General Membership. More information will be shared about how to activate your badge in Summer 2022, and specific instructions will be included with your badge.
No refunds are permitted for D23 Expo tickets. D23 Expo is not responsible for lost, stolen, or forgotten badges.
Please show common courtesy to fellow guests and our cast members by not using profanity or engaging in unsafe, illegal, disruptive, or offensive behavior; jumping lines; or saving places in lines for others. For your safety and the safety of others, please refrain from running.
To ensure a safe and enjoyable experience for all our guests, please respect the following rules:

All persons, bags, parcels, clothing, and other items may be subject to screening/security checks.
We reserve the right not to allow any bag, parcel, or other item and to deal with any unattended object, bag, or luggage in whatever way we consider appropriate.
Firearms, ammunition, knives, and weapons of any kind are prohibited.
Children should be supervised. Guests underage 13 must be accompanied by a guest age 18 or older to enter.
Ask permission from another guest prior to filming or photographing them.
Badges, credentials, and other entitlements are non-exchangeable, non-refundable, revocable, and void if altered. The badge must be used by the same person on all days during its period of validity.
These policies are subject to change at any time without notice.
PLEASE NOTE FOR MERCHANDISE:

Price inclusive of shipping/handling and tax.
Shipping is not available to addresses outside of the U.S.
All orders placed outside of the U.S. will be available at Will Call, during event Will Call hours. Online exclusive merchandise will be forfeited if not picked up.
Will Call is not available for U.S. purchasers. Failure to select appropriate shipping/Will Call option may result in order cancellation.
Final products may vary from concept design image shown.
Merchandise items are limited to twelve (12) per individual item OR twelve (12) Fan Bundles.
All merchandise ordered is expected to ship approximately 4-6 weeks after ordering to the shipping address provided.
All merchandise ordered will ship separately from your D23 Expo 2022 ticket.
No exchanges once you've placed your order. No refunds on any merchandise.
Online exclusive merchandise will not be available for purchase on site at D23 Expo 2022.
PLEASE BE ADVISED: Filming, photography, and other recording will take place at the D23 Expo 2022 during the event you will be attending. The Walt Disney Company will be taking photos and filming at the Anaheim Convention Center located at 800 W Katella Ave, Anaheim, CA 92802. By entering the premises, you irrevocably consent to and authorize The Walt Disney Company, its affiliates, successors, and assigns (collectively "Producer"), to photograph you, make sound recordings of you, and use such photographs and recordings throughout the world, for any purpose whatsoever in perpetuity, including, but not limited to, television broadcasts and home entertainment products, including, but not limited to, home video and DVD. All such photographs and sound recordings will be the sole property of Producer.
Get your Disneyland® Resort tickets and reservations today!
Are you the ultimate Disney Halloween fan? Celebrate the Halloween season with spellbounding thrills and spooky chills throughout the Disneyland® Resort! Visit Disneyland.com for details.