Do ya need a break from modern livin'? From Lester's Possum Park to Powerline in concert, join D23 the week of April 5-10 for a virtual road trip to celebrate this fan-favorite!
Be sure to check back right here all week long for more fun, and follow us on Facebook, Instagram and Twitter for even more!
#D23GoofyMovie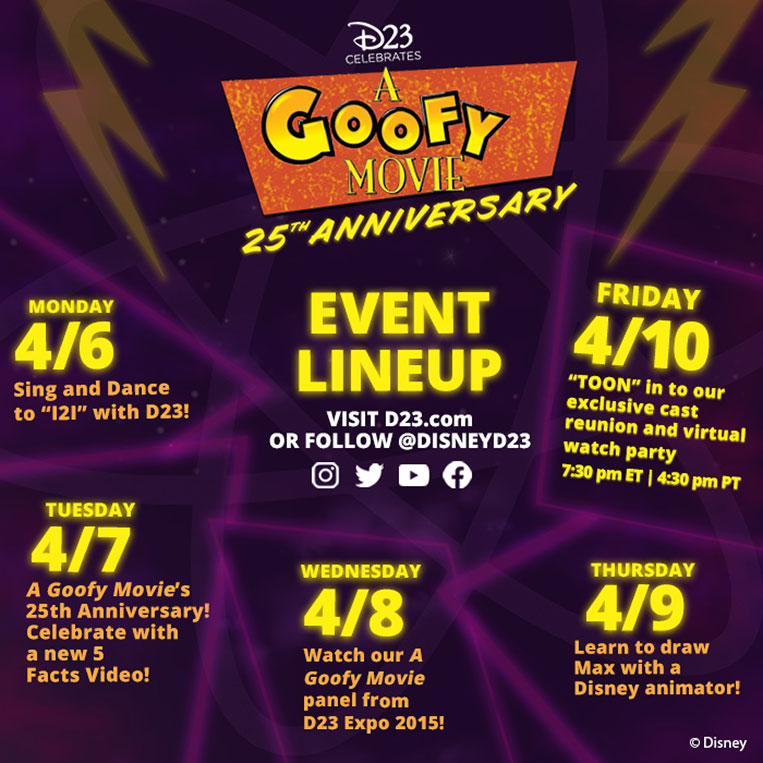 ALL WEEK
Videos, articles, and more to celebrate 25 totally awesome years of A Goofy Movie.
Monday, April 6
Celebrate 25 years of A Goofy Movie with a Powerline-worthy performance
7 Stand-Out Ways to Show Your A Goofy Movie Pride
Tuesday, April 7
Take Your Virtual Meetings on the Open Road with These A Goofy Movie-inspired Backgrounds
5 A Goofy Movie Facts Every Fan Should Know
Wednesday, April 8
The A Goofy Movie Panel from D23 Expo 2015 Really Stands Out
Thursday, April 9
Drawing with D23: How to Draw Powerline Max from A Goofy Movie
Get Cheesy: How to Make A Goofy Movie Cheese Art with Bret Iwan
Friday, April 10
Play A Goofy Movie Bingo!
This D23-Exclusive A Goofy Movie Pin Set Takes You on the Open Road!
7:30 pm ET | 4:30 pm PT
A GOOFY REUNION: 25 YEARS OF A GOOFY MOVIE
"TOON" in Friday for our virtual viewing party to celebrate A Goofy Movie's 25th anniversary, with never-before-heard stories from members of the film's cast and creative team.
Where to watch the reunion:
D23.com
Facebook.com/DisneyD23
YouTube.com/DisneyD23
Talent includes:
Bill Farmer, voice of Goofy
Jenna von Oy, voice of Stacey
Jim Cummings, voice of Pete
Rob Paulsen, Voice of P.J.
Kevin Lima, director
Jymn Magon, writer
Brian Pimental, writer and story supervisor
Gregory Perler, ACE
Jack Feldman, songwriter
Bambi Moë, music producer
David Z Rivkin, music producer, engineer and mixer
8pm ET | 5pm PT
D23 CELEBRATES A GOOFY MOVIE WATCH PARTY
Set your clocks to 1995, and join our global party to watch the film "eye to eye" with your fellow Disney fans on Disney+, play along on our virtual bingo cards, live tweet with us, and check out our behind-the-scenes tidbits along the way!
Where to watch:
Disney+
Join the conversation & follow along using:
#D23GoofyMovie on Twitter and @DisneyD23 on social media