By Beth Deitchman
When college basketball coach Marvyn Korn is ousted from the NCAA, he sees his new position at an elite private high school as a big "step down." But Marvyn has no idea how much his game will need to step up if he hopes to have any chance of inspiring his teenage players in the new Disney+ original series Big Shot, premiering Friday, April 16. John Stamos stars as Marvyn, a stoic coach who has always seen his players as "Xs and Os." The young women on his team, however, will require empathy and vulnerability from their coach, and as Marvyn learns to connect with his players, he just might grow into the person he's always hoped to be.
Big Shot is created by Emmy® Award-winning writer/producer David E. Kelley, with Dean Lorey and Brad Garrett. The three are executive producers alongside Bill D'Elia, who also directed the pilot. During Disney+'s recent Television Critics Association virtual press event, Stamos recalled the joy he felt when he was told he was he was being offered a new David E. Kelley show… until he learned the show was centered on basketball. "I've never been much of a sports guy and I sort of panicked when I heard it was about basketball," he said. But Stamos was so drawn to the character of Marvyn Korn that he embraced the challenge. "I was looking for this show. I was looking for a way to play an adult character that had layers and wasn't just light and fluffy, and that's in here," Stamos shared, adding, "I was dying to be on Disney+ because, as you know, I'm a Disney freak."
The show is a "fish-out-of-water" story, Lorey explained. "Initially, when we were talking about the show, we were trying to figure out what environment to put [Marvyn] in, because we knew it was going to be a show about a coach who gets disgraced and his only path to redemption is going to be coaching high school," he said. "David and I decided, well, let's make it a private girls' school—kind of an expensive, tony school in La Jolla—because we felt like that would be the most difficult environment for a guy like Marvyn to find himself in. And would lend itself to comedy and the show does have a certain amount of comedy, too."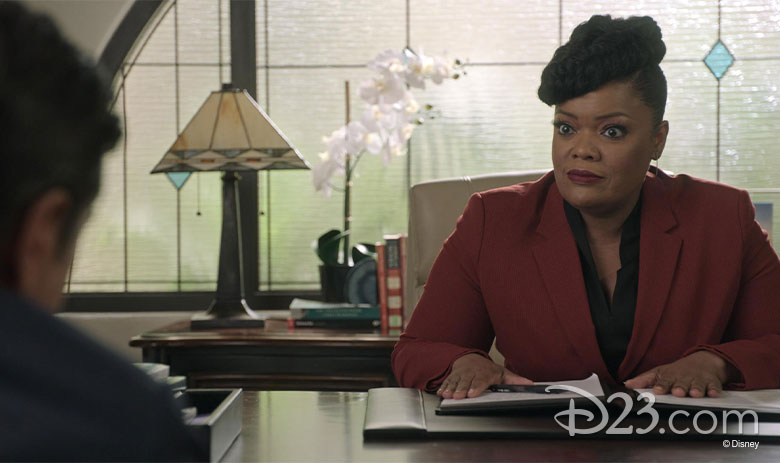 No small amount of that comedy is delivered by Stamos' fellow Disney-fan castmate, Yvette Nicole Brown, who plays Marvyn's boss, Sherilyn Thomas, Westbrook's principal. "Sherilyn is a tough character but she loves the girls. She wants the school to be great," Brown detailed. "Having Coach Korn, played by the fabulous John Stamos, might not have been her first choice but she's rolling with it and willing to give him a chance to find out who he really is and what he's going to bring. So she's hoping for the best from this man who is a thorn in her side at the beginning of the show." Brown teased upcoming moments that allow Sherilyn and Marvyn to connect about what they want for the girls and for the school. "I think that's a wonderful part of what's to come," Brown said.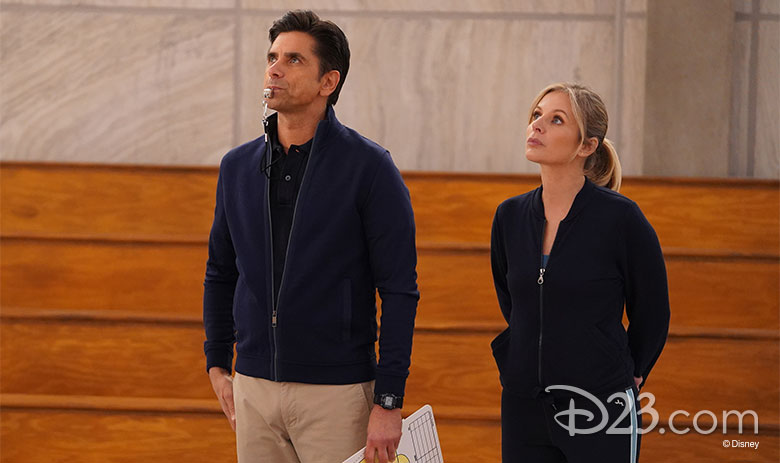 Sherilyn is just one of the many women in Big Shot who inspire Marvyn to reexamine his approach to coaching—and to life. Jessalyn Gilsig plays assistant coach, Holly Barrett, who may welcome Marvyn's basketball insights but has strong opinions of her own about what's best for the girls on the team. "It's been so much fun over the season for our two characters to make room for one another, because he's really kind of stepped into my world and I'm really protective of the girls and of this environment, which has been kind of status quo for so long," Gilsig detailed. As a veteran of two David E. Kelley shows—she also starred on Boston Public—Gilsig credits the incredible writing with making Big Shot feel as real and as fun as it does. "[Kelley's shows] are so character-driven, so what happens is you just put these two well-drawn characters into a room and then you sort of release them and see what happens," she says. "And that's really what this show is for me, which, as an actor, is really the most gratifying way to work because you feel like there's always something to draw from."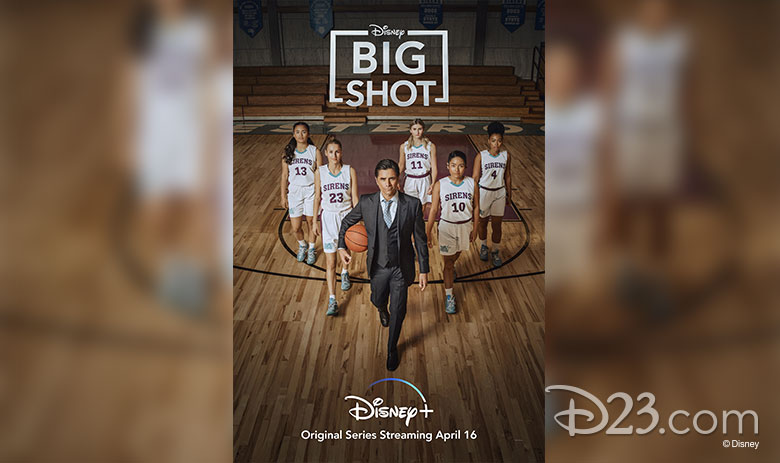 Big Shot also features a talented ensemble of young actresses cast as the Westbrook Sirens, including Nell Verlaque, Tiana Le, Monique Green, Tisha Custodio and Cricket Wampler. "We picked the best actresses instead of the best basketball players, in the hopes that maybe they could learn the basketball, but we're going to rely on their acting ability," Lorey explained. The girls had a wide range of skill levels when they began working on Big Shot and spent time in basketball "boot camp" improving upon that talent and coming together as a team. And similar to Stamos, D'Elia joked, "My experience with basketball can be reduced to one word: baseball." But also like Stamos, the director embraced his own fish-out-of-water situation. "Directing [the basketball sequences] was certainly nerve-wracking," he said, and he worked closely with Big Shot's basketball coordinator so that "when it came time to shoot the games, I was fully prepared and it was a lot of fun."
As the mother of a teenage athlete, Gilsig is excited to see how the young women players are portrayed throughout the series. While dating and relationships come up over the course of the first season, Gilsig appreciates that it's the girls' personal ambitions and development that are being explored through the lens of sports and the team. "It's incredibly refreshing to see that we can finally tell stories about young girls that are not solely focused on relationships, that aren't focused on them being mean to each other. That's not what this is about. It's not about catfights or any of those stereotypes. It's truly about these interesting young girls. And it's really funny, too—that has to be highlighted," she said. "It's a new lens and it's an important lens."
Stamos believes that now, more than ever, we need shows like Big Shot. He's excited by how, through the women in his life, Marvyn Korn "listens and grows" over the course of the first season. The actor—and fellow Disney fan—said of the series and its aspirational themes, "It's one of my favorite jobs I've ever had."