From the Office of Walt Disney
The 2016 D23 Member Gift is a first-of-its-kind collection, inviting Gold Members to celebrate the return of Walt Disney's office suite to his Burbank studio lot. Thoughtfully selected from the Walt Disney Archives, 23 meticulously reproduced treasures combine to trace Walt's path from America's heartland to the world stage. The mementos range from monumental (a game-changing telegram, a Disneyland preview pass) to personal (an internal memo, a holiday greeting card), reflecting the remarkable breadth of Walt's interests and achievements while defining his dynamic legacy.
"From the Office of Walt Disney" will be sent to all D23 Gold and Gold Family Members who join or renew from January 1 through December 31, 2016.
A Tradition of Disney Studio Christmas Cards
Starting in the early 1930s, Disney studio employees, business partners, and friends could look forward to the yuletide charm of the annual Disney company Christmas card. Discover the history of these treasured keepsakes – a tradition started by Walt Disney, himself.
Click here to read the article!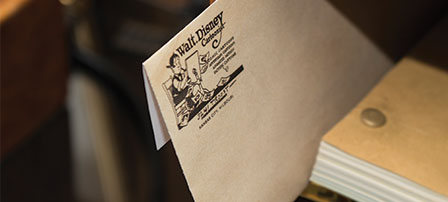 1 - "Walt Disney, Cartoonist" Envelope (ca. 1921)
In the early 1920s, aspiring newspaper cartoonist Walt Disney discovers the art of animation. Experiments in his parents' backyard garage lead to his first, though short-lived, business venture in Kansas City.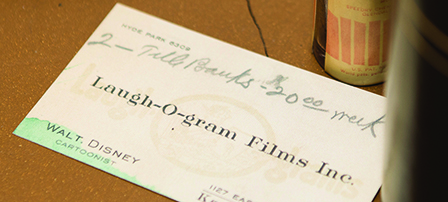 2 - Laugh-O-gram Films Inc. Business Card (1923)
Madcap takes on classic tales give Walt his first screen success. Pen-and-ink Goldie Locks, Red Riding Hood, and Cinderella pave the way for a live-action Alice, whose comedic adventures in a cartoon wonderland click with audiences and spawn a series.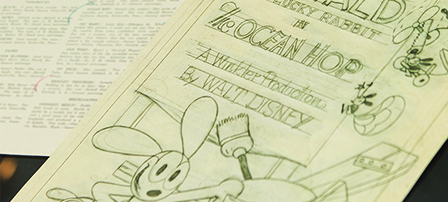 3 - The Ocean Hop Poster Art (1927)
Walt's second successful series starred Oswald, a rabbit whose "luck" held through a series of 26 silent shorts. In this poster design, Oswald salutes American air ace Charles Lindbergh, whose transoceanic flight captivated Walt—and the world.
4 - "Everything OK" Telegram (1928)
Following the devastating loss of Oswald to his New York distributor, Walt cryptically wires his brother that all is well. Ever the optimist, as his train speeds west, Walt plans his next act... and the mouse who will be its headliner.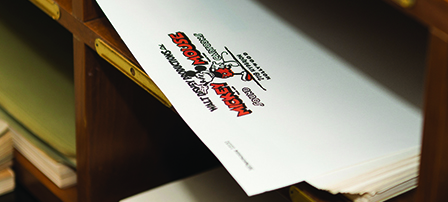 5 - Disney Hyperion Studio Letterhead (ca. 1930)
Walt Disney's studio on Hyperion Avenue grows steadily as the triumph of Steamboat Willie allows Walt and his artists to establish and refine animation with an emphasis on storytelling and personality.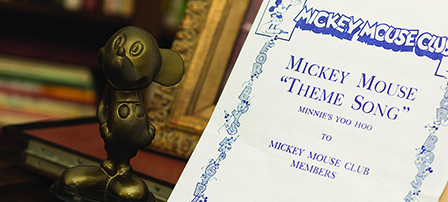 6 - "Minnie's Yoo Hoo" Sheet Music (1930)
Movie theaters play host to the first Mickey Mouse Clubs, where throngs of "Mickey Mice" convene for Saturday matinees with their favorite star. The official club song, "Minnie's Yoo Hoo," is the creation of music director Carl Stalling and Walt Disney himself.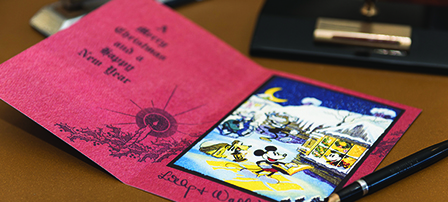 7 - Walt and Lillian Disney Christmas Card (1931)
3 years after his debut, Mickey Mouse is a global celebrity, and his creator's name is a household word. Walt and his wife, Lillian, send this elegant holiday greeting to friends and acquaintances, anticipating a decades-long tradition of illustrated Studio cards.
8 - Silly Symphonies Film Industry Trade Ad (1932)
Pushing established boundaries, the Silly Symphonies explore music and color in vibrant and unexpected ways. The series paves the way for an entirely new motion picture genre: feature animation, beginning with Snow White and the Seven Dwarfs.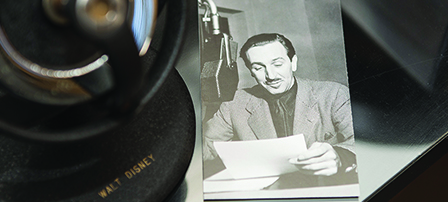 9 - Radio Broadcast Publicity Photograph (ca. 1938)
Eager radio listeners tune in to The Mickey Mouse Theatre of the Air, a Sunday afternoon treat featuring original stories, music, and character voices from Disney pictures... including Walt as both himself and Mickey!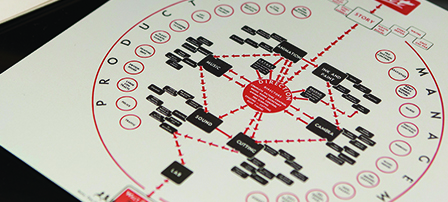 10 - Staff Handbook Organizational Chart (1943)
At his bustling new studio in Burbank, Walt's creative team expands. New arrivals learn that the friendly atmosphere originates from their famous boss, who insists on being addressed by his first name.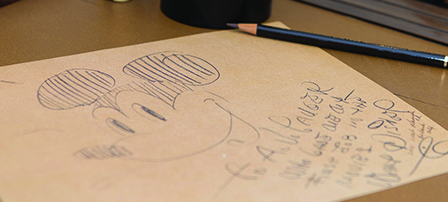 11 - Memory Book Sketch by Walt Disney (1944)
On December 28, 1944, a testimonial dinner is held at the Hollywood Roosevelt Hotel in Hollywood for Mr. A.V. Cauger, who had given several future animation luminaries their starts at the Kansas City Film Ad Company—including a grateful Walt Disney.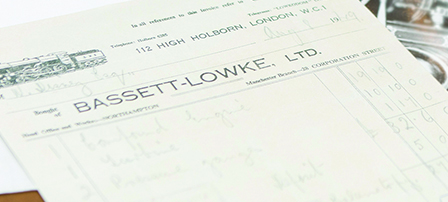 12 - London Train Shop Receipt (1949)
Miniature railroad enthusiast "W. Disney, Esq." eyes an engine for his backyard layout, as does designer Harper Goff. Walt gets the train, but Harper gets a job that will make him a Disney Legend.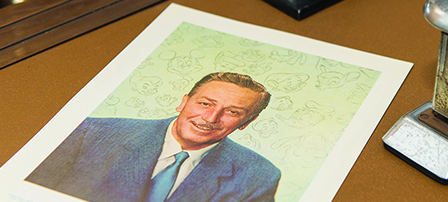 13 - Walt Disney "Fan Card" (ca. 1954)
The Studio Fan Mail Department receives mail for all Disney personalities, particularly Walt himself! Special fan cards are sent in reply, including this portrait of Walt with a collection of characters drawn by legendary artist Bob Moore.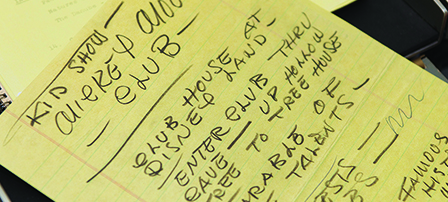 14 - Walt's Mickey Mouse Club Notes (ca. 1954)
To fund his theme park plans, Walt agrees to produce both a weekly anthology and a daily children's TV series for ABC. The groundbreaking Mickey Mouse Club features a talent showcase, history, current events, and, naturally, Disneyland fun.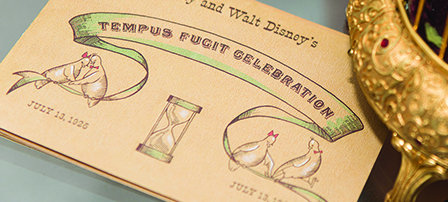 15 - Invitation to 30th Anniversary Party (1955)
Time flies as Walt and Lilly mark 30 years of marriage with a spectacular Disneyland party four days before the park's dedication. Humorous lovebirds caricature the happy couple on their own copy of the invitation.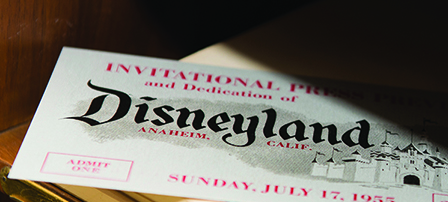 16 - Disneyland Press Preview Pass (1955)
While the nation watches on live television, Walt hosts the invitational opening of his original Magic Kingdom on July 17, 1955. Disneyland becomes every child's vacation goal—and welcomes its one-millionth guest in less than two months.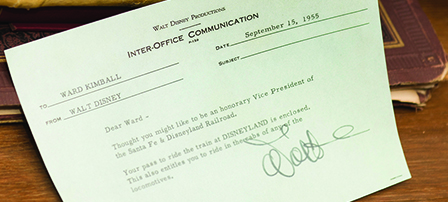 17 - Inter-Office Memo to Ward Kimball (1955)
Directing animator Ward Kimball, who had helped fan the flames of Walt's love for trains, receives the title of Honorary Vice President of the new Santa Fe & Disneyland Railroad and, most importantly, a pass to enjoy its scenic route around the park.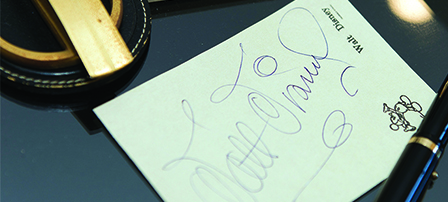 18 - Walt Disney's Autograph (1958)
Increasingly, Walt is recognized while roaming Disneyland, and to avoid gathering crowds while still accommodating autograph requests, takes to carrying pre-signed paper in his pockets. He quickly hands a sheet to a requestor then hurries on his way.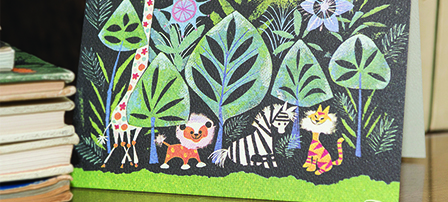 19 - It's a Small World Notecard (1964)
Walt's salute to children everywhere, It's a Small World is one of four Disney exhibits showcased at the 1964-65 New York World's Fair. Visitors can aid its sponsor, UNICEF, by purchasing this and other Mary Blair art cards beneath the landmark Tower of the Four Winds.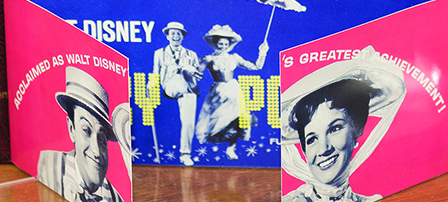 20 - Mary Poppins Promotional Piece (1964)
Walt seeks the rights to P. L. Travers' enchanting stories for decades and is rewarded with the biggest hit of his cinematic career. Julie Andrews and Dick Van Dyke dazzle in this extraordinary musical fantasy, rightfully heralded as "a supreme achievement."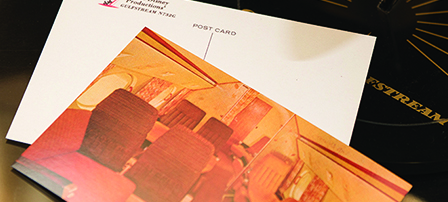 21 - Postcard of Walt's Plane (ca. 1964)
Actively enjoying the perk of a company plane, Walt follows two earlier Beechcraft models with this sleek Grumman Gulfstream I, which is used for travel and to scout land parcels in Florida. Delighted passengers receive this postcard as an exclusive in-flight amenity.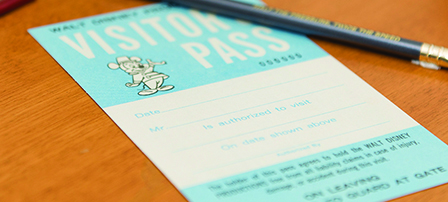 22 - Walt Disney Productions Pass (ca. 1966)
Visitors to Walt's 44-acre lot in Burbank find a charming, campus-like environment, much the same as when it was built in 1940. Stages and backlot streets are later additions to this community of collegial creativity where anything is possible.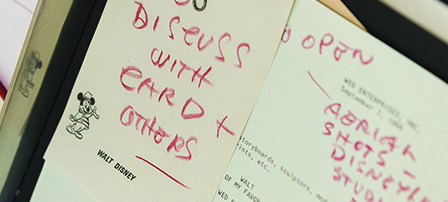 23 - Walt's Notes on EPCOT Film Script (1966)
Walt annotates writer Marty Sklar's script introducing the Experimental Prototype Community of Tomorrow. Executive Card Walker will see both this film and the EPCOT project through to completion.